---
Church News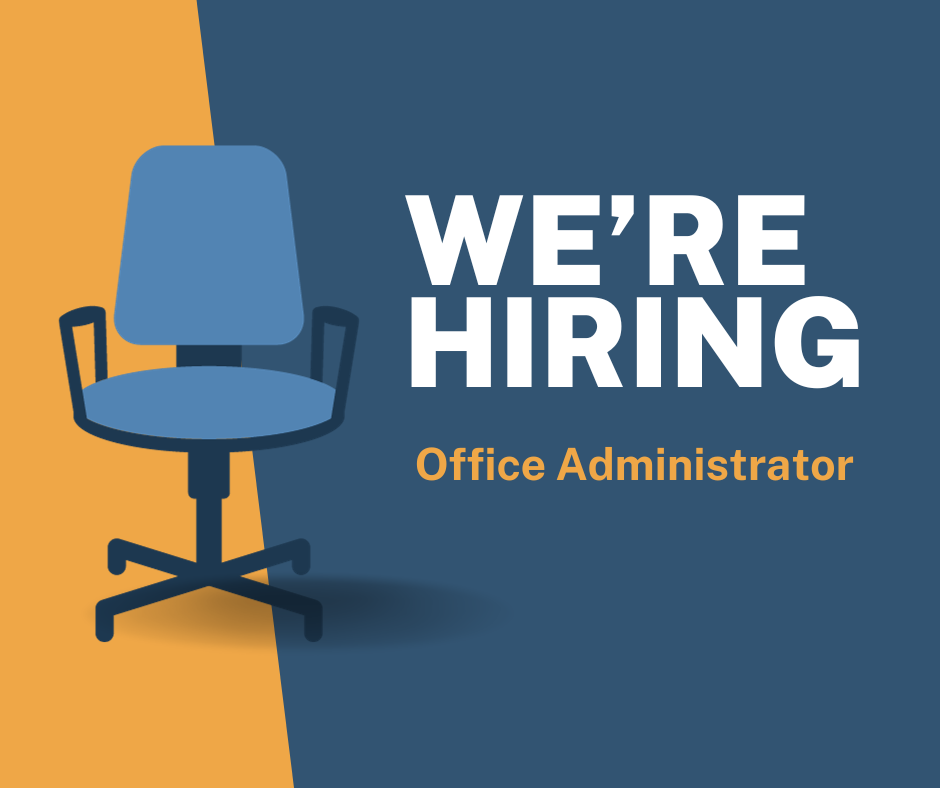 Transcona Memorial United Church is hiring an Office Administrator and it could be you!
If you're a strong leader with impeccable communication skills and a confident and motivated work ethic and style — we would like to meet you!
If you have proficient computer skills, a mind for accounting and the ability to multitask in a busy and dynamic church office environment – we would like to meet you!
How does working Tuesday to Friday (5 ½ hours a day) sound? How about $20 / hour with health benefits and a pension plan?
The full job description can be found here.
You would be a welcomed addition to our faith community as you would be working closely with our minister, staff, council, volunteers, and members of our congregation to provide administrative support and ensure the efficient operation of the church office.
If you're interested, please let us know right away as we will be accepting resumes until FRIDAY, OCTOBER 13, 2023. It's easy to apply. Simply send a cover letter and resume to transconauc@gmail.com.
Hope to hear from you soon!
Ministry & Personnel Team
TMUC
A Police Record/Vulnerable Sector Check are required for employment. All applicants will be treated with confidentiality.
---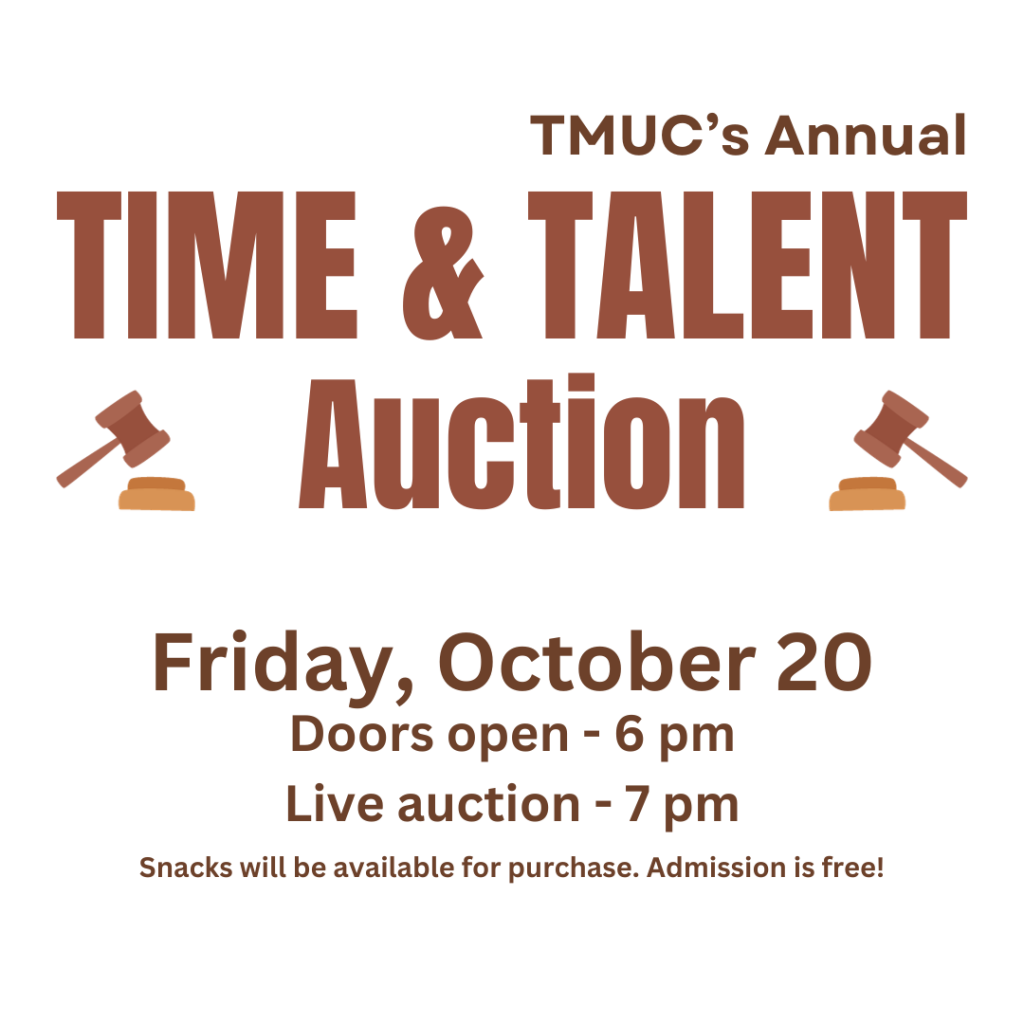 The Time & Talent Auction is coming and we're looking for donations!
Bring your NEW or LIKE NEW items to the office during office hours or on Sunday mornings and remember to complete the donation form so your item or "time and talent" gets added to the auction list.
Deadline is Wednesday October 18.
If you would like to approach a business for a donation,
request letters are available in the office.
Interested in volunteering?
Please contact Breanna at 204-415-9036 or bdbilyk@gmail.com for more information.
---
Dinner Theatre – We would like to get things started and are looking for a Producer or a couple of folks to share these duties. Our cast is ready and willing to get into their parts but we have to select a play first. Come and talk with me and I can fill you in. Shelley 431-275-9169 or saschau@mts.net
---
Office hours are Tuesdays 9 – 2 pm, Wednesdays and Fridays from 9 – noon. Messages for the Office Admin may be left at 204-222-1331 ext 1 or email office@tmuc.ca ; messages for our Minister may be left at 204-222-1331 ext 2 or email minister@tmuc.ca Messages will be monitored and replies for non-urgent messages will be done during office hours.
---
Rob's Sunday Worship Reflections are always available in print form – contact him at minister@tmuc.ca and he can email you a copy or the office can print one for you.
---
Calling All Singers! – The TMUC Singers! Practices will be every Tuesday from 7-8:30 pm and we will be singing at the last service of each month and special occasions.
Hymnotic will be helping out with the hymns on the weeks when The TMUC Singers aren't singing. If you would like to join us, we practice at 9 am Sunday for the 10 am service.
---
TMUC and the ENVIRONMENT
Transcona Memorial United Church has been working to ensure that every action that we take, will be taken with consideration of that action's impact on the environment.
We continue to strive to:
• minimize our negative environmental impact
• maximize our positive environmental impact
• advocate for positive environmental change
• continually improve our Environmental Policy
We are grateful for the ongoing support of the Building Fund, from the community and project sponsors including the Province of Manitoba's contribution of $55,000 through its Building Sustainable Communities program and the United Church of Canada's contribution of $30,000 through its Faithful Footprints program.
We especially acknowledge the Government of Canada's recent announcement of a federal investment of more than $480,000 to upgrade the energy efficiency of our community gathering space.
News release
The Government of Canada invests in energy efficient upgrades at
Transcona Memorial United Church's community gathering space
Winnipeg, Manitoba, June 20, 2023 — Today, the Honourable Dominic LeBlanc, Minister of Intergovernmental Affairs, Infrastructure and Communities, Russ Wyatt, Councillor, Transcona Ward for the City of Winnipeg, along with Breanna Drennan-Bilyk, Council Chair, Stephen McKendry-Smith, Environmental Coordinator, and the Reverend Carol Fletcher, Team Minister for Transcona Memorial United Church, announced a federal investment of more than $480,000 to upgrade the energy efficiency of Transcona Memorial United Church's community gathering space.
This investment will enable a major renovation that will reduce the building's environmental footprint. These improvements include better insulation, new air-source heat pumps to replace gas furnaces, and new lighting. A solar panel array will also be added to the building to reduce electricity costs. Additionally, the Heating, Ventilation, and Air Conditioning (HVAC) system will be upgraded to improve air quality and keep the building at a comfortable temperature.
These improvements are expected to reduce the Church's energy consumption by an estimated 81.4% and greenhouse gas emissions by 33.20 tonnes annually.
The Transcona Memorial United Church's community gathering space is an accessible and safe space that is widely used by the community for recreational programming that supports seniors and youth. Programs such as the Transcona Seniors Pickleball Club, Transcona Girl Guides, the Alzheimer Society, and many more make use of the space.
By investing in infrastructure, the Government of Canada is growing our country's economy, building resilient communities, and improving the lives of Canadians.
Quotes
"The Transcona Memorial United Church has been a neighbourhood staple for decades, serving Winnipeggers of all backgrounds through their recreational programming and their food bank. We're proud to be supporting their efforts in building a stronger, more inclusive Winnipeg."

The Honourable Dominic LeBlanc, Minister of Intergovernmental Affairs, Infrastructure and Communities
"Transcona Memorial United Church is a community leader, supporting existing, non-religious-based groups such as the Transcona Council for Seniors, Transcona Food Bank, and the Cubs, Scouts, and Guides, just to name a few. This project will enhance the wellbeing of many residents of the community of Transcona."

Russ Wyatt, City Councillor, Transcona Ward
"We are delighted to have a project that makes a difference in our community and beyond!"

Breanna Drennan-Bilyk, Council Chair, Transcona Memorial United Church
"We have a decades-long track record of providing assistance to all people in the community who have a need. The efficiencies gained through this project will allow us extend this legacy of service. The greenhouse gas reduction that the project affords will help us become better stewards of the Earth."

Stephen McKendry-Smith, Environmental Coordinator, Transcona Memorial United Church
"What a great project this is, we are so grateful for the Government and community support that we are receiving. It really shows that when people work together anything is possible!"

Rev. Carol Fletcher, Team Minister, Transcona Memorial United Church
Quick facts
The Government of Canada is contributing $484,151 to this project through the Green and Inclusive Community Buildings (GICB) program and the City of Winnipeg is contributing $50,000 to this project.

The GICB program aims to improve the places Canadians work, learn, play, live and gather by cutting pollution, making life more affordable, and supporting thousands of good jobs. Through green and other upgrades to existing public community buildings and new builds in underserved communities, the GICB program helps ensure community facilities are inclusive, accessible, and have a long service life, while also helping Canada move towards its net-zero objectives by 2050.

The GICB program was created in support of Canada's Strengthened Climate Plan: a Healthy Environment and a Healthy Economy, supporting the Plan's first pillar through the reduction of greenhouse gas emissions, the increase of energy efficiency, and higher resilience to climate change. It is providing $1.5 billion over five years towards green and accessible retrofits, repairs or upgrades.

At least 10 percent of funding is allocated to projects serving First Nations, Inuit, and Métis communities, including Indigenous populations in urban centres.

For more information, please visit the Infrastructure Canada website.
---
Welcome Reverend Robert Reed
TMUC approved a call to the Reverend Robert Reed to serve as this faith community's Ministry Personnel. In August we welcomed Rob and officially welcomed him to TMUC during his conventing service on September 17th.
Rob sends these words:
People of Transcona Memorial,
Allow me to introduce myself. My name is Rob Reed, and the congregation that inspired my call to ministry through its handbell choir and youth program was Camrose United Church in Alberta. In 2002, I received an opportunity to become part of a team ministry as a Staff Associate, in Sherwood Park, Alberta, where my focus was with youth, and where my discernment for diaconal ministry was undertaken and completed. I was commissioned in 2010, in Alberta and Northwest Conference. In 2007 I began serving as a student with the people of Gainsborough and Carievale in southeast Saskatchewan. These congregations saw me through my theological studies and training with the Centre for Christian Studies, Transfer and Settlement, and 16-years worth of pastoral occasions, to today.
My call to ministry has been nurtured and sustained by opportunities to express creativity through worship, music, education and leadership. My motivation to pursue a call to Transcona Memorial United Church was the stories I have read and heard about the ways in which you live out your call to be God's people. I am excited to learn more about your journey to becoming an Affirming congregation, and how you continue to live this out. I am excited to learn about and share in your environmental initiatives to care for Creation. I am excited to explore and claim with you, the responsibility of our United Church's part in reconciliation with our Indigenous kin. I am excited to join in and contribute to the vibrant energy of Messy Church. I am excited to participate in the events that create community and fill the spiritual needs of people who seek the fulfillment of these at Transcona Memorial. I am excited!
I arrived in Winnipeg to take up this call along with my partner, Susan, who has recently accepted a call to North Kildonan United Church, and our adorable fur-babies, Charlie and Simba. We look forward to exploring Winnipeg, and have already talked about taking in music and theatre events, as well as scoping out interesting restaurants. Thank you for approving my call to serve you.
Blessings,
Rob.
---
The 70th Annual Congregational Meeting was held in person on Sunday March 5. 2022 ANNUAL REPORT