---
Church News
---
Look, up, look up, look way, way up!
 
If you stand on the sidewalk in front of the church and look up, you will see what the Building and Property Team has seen. 
After they looked up, some of them climbed up with roofing experts. 
The shingles on the church, installed in 1999, will not do us for another winter.  And, there are other concerns about the building that should not be neglected.
The Building and Property Team prepared a report of recommendations for the Council, and having read that report, the Council has called a Congregational Meeting.  The report talks about the roof (shingles are one part of that), and the future needs of the building – furnace replacement which might happen as soon as next year (yes, we are hoping for grants to help with this…)
A Congregational Meeting will be held on Tuesday, August 2 at 7:00 p.m. on ZOOM. 
 It will be possible for people who do not have ZOOM to join the meeting via telephone.  We hope that you will plan to attend.
The report, recommendations, and funding considerations will be distributed next week, at least one week in advance of the meeting.
As we plan, it is very clear that additional contributions to the Building Fund would be greatly appreciated right now!
The ZOOM link for the meeting on August 2 will be:
https://us02web.zoom.us/j/7538449219
By phone:
Meeting ID: 753 844 9219
+1-204-272-7920 
---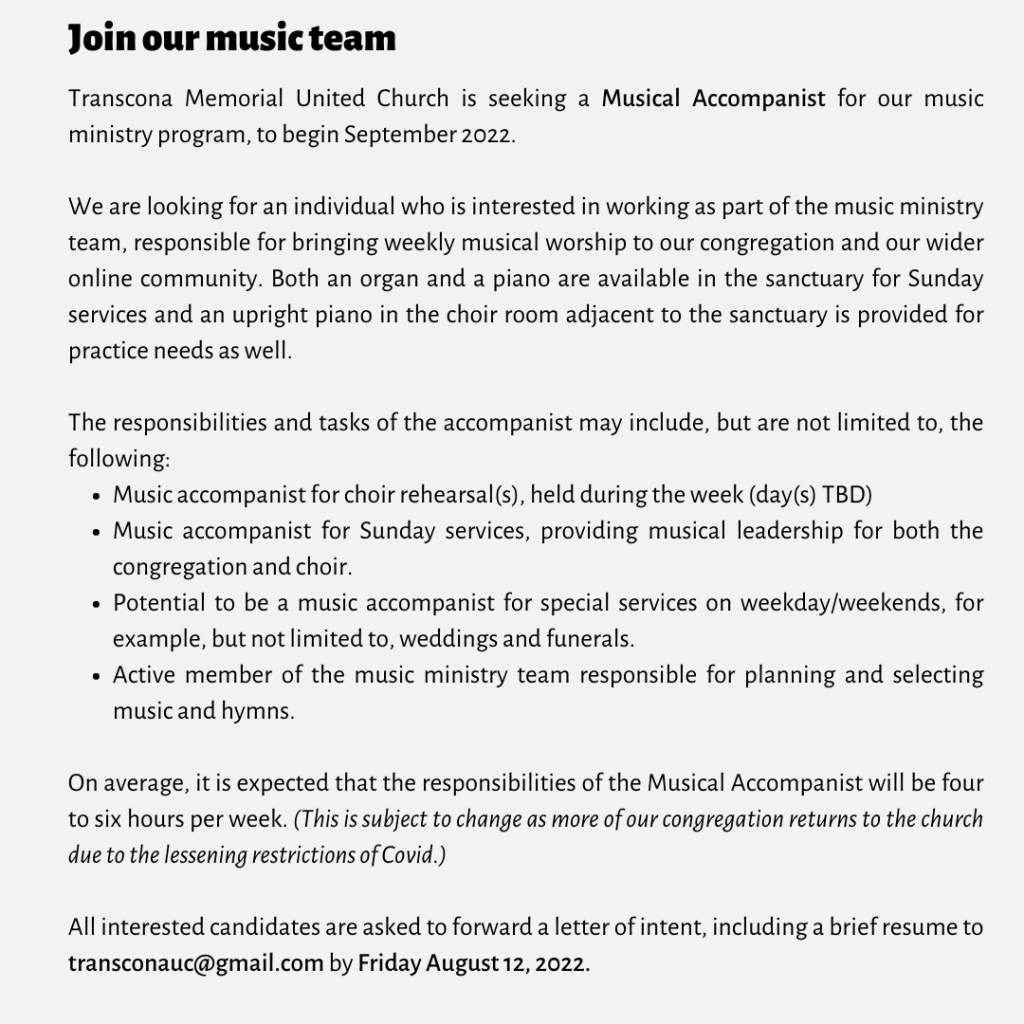 Click here to for PDF version of job posting
---
TMUC is open for in-person worship every Sunday at 10 a.m.!  Masks continue to be required.
---
Church office summer hours are Tuesday through Friday from 9:00 a.m. to 12:00 p.m.  Our Office Administrator, Laura Sechman can be reached at (204) 222-1331 or tmuc@shaw.ca 
---
As part of the Annual Meeting , the congregation agreed to pause and pray for peace every day at 6:00 p.m.  May we pray, 'let there be peace on earth', 'in your mercy, O God, help the world find a path to peace', or whatever words or silence echo for you. We will be one with one another.   We will #StandwithUkraine
---
Pray with us for the Messy Churches in Ukraine

. We pray for the people throughout Ukraine, and people of the Messy Church at the Kyiv Christian Academy and the Messy Church at Hotel Tourist in Kyiv. #StandwithUkraine   Let there be peace on earth!
---
---
At the Annual Meeting we approved an Environmental Policy for TMUC.  The policy can be viewed HERE