Carol Fletcher
TMUC is a great faith community and I am delighted to be a part!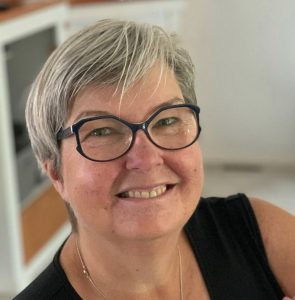 I believe that the Church needs to be a partner and a leader in our world where we strive to live love and compassion for all. God's love leads us to faith, reflection and action.
Serving this congregation since 1988, I know that TMUC is an exciting and enlivening congregation, with a genuine presence in the community; and a faithful and faith-filled sense of God's presence.
Along with leadership and responsibilities in our congregation, in our community I am actively involved in TMUC's support of the Transcona Council for Seniors, the Transcona Community Network, and Family Dynamics (Plessis Resource Centre).
Since 2011 I and TMUC have been involved in Messy Church, a program founded in the UK.  In 2014, I became a part of the Canadian leadership team and in 2021 I became the Team Lead for Messy Church Canada.  I led the Messy Church Canadian Conference planning team to host a virtual Messy Connections Conference in October of 2021.
In the pandemic, TMUC pivoted to online worship and in addition to many other things, I became the voice of Esther in our Esther and Emmett puppet ministry.
New ideas and fresh expressions of congregational life are all around us – what an exciting time!
And, if you want to know more, I grew up in Winnipeg, hold a B.A. from the University of Manitoba, an M.Div. from Queen's, and served in Saskatchewan living in Esterhazy. Jeff and I were married in 1985 and we have two adult sons. I (and we) occasionally write for Mandate Magazine and the BRF's Messy Church in the UK. I like to golf in the summer, curl in the winter, and travel whenever I can.  I have been honoured with the Golden Jubilee Medal in 2002, the Marian Award from St. Mary's Academy in 2007, recognition from Manitoba Council on Aging Awards in 2014, and the Casera Community Award for Community Leadership for 2016.  There is even a street in Winnipeg bearing my name.
Jeff Cook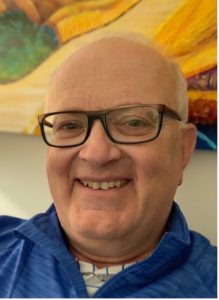 "What's God up to?"
That question keeps showing up in my faith 'in-box.'
It's a question that keeps showing up as I share in the life and blessing of the faith community of Transcona Memorial United Church.
The question shows up as TMUC constantly seeks to be shaped and re-shaped by God to be an affirming, welcoming, justice-seeking, awe-appreciating, caring, blessing, worshipping, community-partnering, faith-embodying, joyous, laughing, crying and grace-filled community of Christ companions.
The question shows up in this faith community, and it shows up in the lives of individuals who seek to discern God's activity in midst of the world's celebrations and conflicts.
I am blessed to be able to hear the "what's God up to?" question as a faith pilgrim of the TMUC community.
And, if you want to know more: I grew up in Wayne Gretzky's home town of Brantford, Ontario (and have the dubious distinction of having Gretzky once score three goals on me in 10 minutes). I was ordained in 1984. Carol and I were married in 1985. After serving the Cutarm Pastoral Charge in Saskatchewan, we accepted a call to TMUC in the summer of 1988. For nine years I volunteered teaching a weekly sketching class to students at a local Elementary School.
With the Rt. Rev. Walter Farquharson, I co-authored  the book "An Audacious Invitation: A compelling reflection on the Gospel According to John." My article (published in Mandate magazine, Nov. 2010) entitled "Under the Ice" won a Canadian Church Press Award for Best Theological Reflection. In 2012, I was a nominee for Moderator of The United Church of Canada.