Getting a handle on this.
So, here we are, week 2 of 'Church at home'.  Thanks to everyone for engaging with us on this journey.  We are grateful to share ministry with you and really appreciate your efforts to stay in touch, to provide us with feedback, and to continue to care about TMUC.
Let's begin with a piece of news and then get to our worship.
With the Time and Talent Auction and the Dinner Theatre postponed, our only fundraiser this Spring is our Plant Sale.  It is an online sale at www.glenleagreenhouses.com  Glenlea is providing flowers, herbs, vegetables and more through the 'fundraising' page.  Once you have selected items to your cart, you will be asked to provide the name of your 'group' and you can select Transcona Memorial United Church with a delivery date to the church of Friday, May 22.  We have a plan to sort plants and get them to your vehicle or home even if we are still with 'Social Distancing' (we are all uncertain how long this will last).  Thanks for your support.  You can place your orders online until April 22.
And, in the midst of COVID-19 many things have been cancelled.  BUT – Earth Hour is not cancelled!  This Saturday at 8:30 pm, you are invited to pause – offer a prayer for our planet and turn off your lights for an hour.  If you want some inspiration there are a number of great videos on https://www.youtube.com/user/ConservationDotOrg
Let's continue to be a community at prayer together.  On Sunday at 10:00, let's think about the gifts we have in our lives, and needs of our world, and then let's all pray the Lord's prayer. (you can pray silently, or out loud)
And, sometime, when you want to have a longer worship time, we are including some words and videos for your use.
---
Worship for Sunday, March 29, 2020
CALL TO PRAYER
"Open The Eyes of My Heart" Sung and played by Cheryl Jackson

We gather together although we are apart.
We gather in community although we are alone.
We gather asking for God's blessing on our lives, and on our world.
We gather knowing God is with us.
OPENING HYMN
"Spirit Open My Heart" Sung by Crystal Schau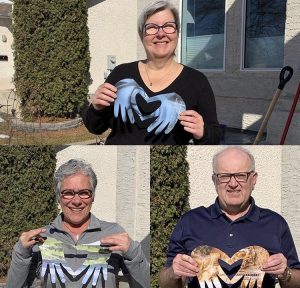 Did you know that your hands can make a heart?  Perhaps you know that the approximate size of your first is the size of your heart – but there's even more connection between your hands and your heart.
Did you know if you trace your hand on a folded piece of paper with your thumb and index finger pressed along the fold, when you cut out the tracing and open it, you will see a heart?
And, maybe you want to join us in doing that, and put our waving hands in your windows to show the love we have for our neighbours, and especially all the health care workers, and leaders, and essential service people on whom we need to depend – especially right now.
Here's a suggestion from Brenda LeBeau, our Youth Point Person:
Use any paper you have at home that is large enough.  Fold it in half.  Make sure your thumb and pointer finger are along the fold.  Do not cut the fold where they meet.  Cut out the rest of the hand and open it up.  There will be a heart in the middle.  Put in the window for everyone to see and maybe write a message on it.  Many people are out walking in their community.  A message from you would be a wonderful thing for them to see on their walk.
WORD AND MUSIC SCRIPTURE
"Behold The Face of Christ" by Carol Fletcher and Cheryl Jackson
RELFECTION
By Jeff Cook 
Let us pray:
Holy God, you are strength and our rock in all times.
In this time of uncertainty and distance, we thank you
for your love which sustains us and blesses us.
Help us to be your community O God.
Help us to live love through our calls and notes to each other.
Help us to be united in prayer as we think about the needs of our world.
We pray for health care providers and essential service workers,
We pray for the sick and the dying, the isolated and the anxious,
We pray for those who are at risk of illness, or of violence.
There are so many needs in our world that we are grateful, O God,
That you hear all prayers – the silent and the spoken.
We give thanks that you are with us always.
Amen.
FINAL SONG
"Turn, Turn, Turn" by Steve McKendry-Smith
BLESSING
God bless you and keep you.
God's face shine upon.
God grant you peace and joy.
Be in the peace of Christ, this day and always.
Amen
We keep you in our prayers,
Carol and Jeff