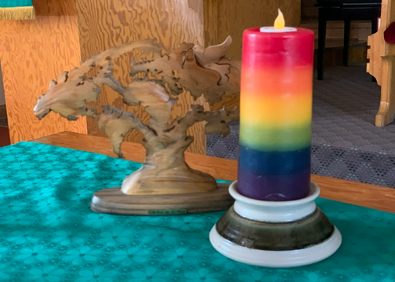 Greetings to you as the sun shines and the temperature rises and the snow melts.  Just when we might have thought that winter was settling in, it feels like fall again.  It really is an upside-down year.
Knowing that our city is in the Red Zone of the pandemic and that the US election is still undecided as we write, let's begin with an invitation to prayer.
Let's pray for our own City and Province.  Pray for wisdom and leadership and care and compassion in this pandemic. Pray for all our health care workers.  Pray for educators and students.  Pray for all those who support health and education and live care for others in all they say and do.  Pray for neighbours and friends who are isolated, and those whose work and business must reinvent itself in this time.
Pray for our neighbours in the United States of America. Pray that after this election is decided, that country's practices, policies and leadership will be grounded in values of decency, respect for all people, respect for creation, equitable access to health care, education and resources, peace-making, generosity, hospitality, compassion and a commitment to right relations.
Pray knowing that you are a beloved child of God, and together we can make this world a better and more compassionate place.
Your prayers are a gift, thank you.
---
And speaking of thanks, Harvey Hochkievich, producer of the 2020 Caught in the Act Company, sends this message:
Greetings everyone,
It seems that it was only a few days ago that we canceled this year's dinner theatre production however I look around and see that Fall has arrived, and winter seems to be knocking at the door quite insistently.
I can also see that it is time we provide an update to you in regards to how things worked out in the "Year of the Covid".
Firstly, I hope this email finds that you are all safe and doing well.
Secondly, I am very pleased to announce that the Caught in the Act Company will be issuing a cheque for $11,500 to the general fund to go into Transcona Memorial United Church's October financials.
This amount in due, for the most part, to the incredible generosity of you, the congregation, and your unwavering support and commitment to our little group and TMUC.
Thank You! Thank You! Thank You!   What an incredible difference you have made in the Life of our Church.
As part of house-keeping you should also be aware that charitable receipts for non-church regular givers are in the process of being mailed out and should be received by November 16.
For regular church givers, your donation has been recorded and will be included in the total for your all givings in 2020, which will be received in January/February as is the normal process.
On behalf of the Caught in the Act Company again Thank You all of your support of our Dinner Theatre and we hope to be back in business as soon as it is safe to do so.
Best Regards
Stay safe and be Well.
Harvey Hochkievich
---
There is always news to share.  You are welcome to send us news through the church email or by calling us at home.  We are always glad to hear from you.
Our weekly Thursday morning check-in and chat continues tomorrow.
Here is the link to the TMUC ZOOM:
  
Join Zoom Meeting – All are welcome!
https://us02web.zoom.us/j/7538449219
We look forward to seeing you again.
Blessings,
Carol and Jeff