Grace and peace to you!
Just a short note to send our greetings to you and to invite you to meet with us in a virtual gathering on ZOOM.  For the past number of weeks people who have clicked on the ZOOM link have appeared on a screen much like an oversized Hollywood Squares.  We have given everyone an opportunity to say hello and share any news.  It has been lots of fun.
Here's is what it looked like for a book group gathering: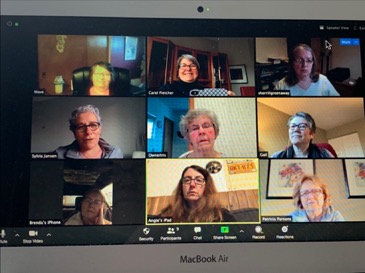 Zoom with us!
We hope that you will join us Thursday May 14 at 9:00 a.m.
Check in and share news.  It's part of how we care for one another.
Here's the link!
https://us02web.zoom.us/j/7538449219
We keep you in our prayers,
Carol and Jeff