The candles of hope and peace are lit, today we add JOY!
And, with great joy, we begin with a word of thanks from the Transcona Food Bank Executive:
The Transcona Food Bank Executive would like to thank everyone who supported to our Food Bank this past year.  Your donations of food, clothing and monetary donations were greatly appreciated.  A special thanks to all our volunteers who donated their time and efforts to help make our Food Bank run smoothly. 
Please remember that volunteers from the Food Bank will be at TMUC to receive donations for the Christmas Food Bank on Wednesday, December 16 from 12:30 to 2:00.  Donations of food, knitting, and items for the gift table are all appreciated.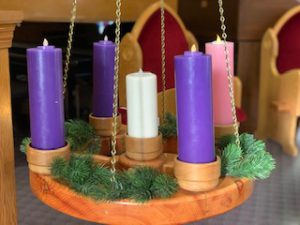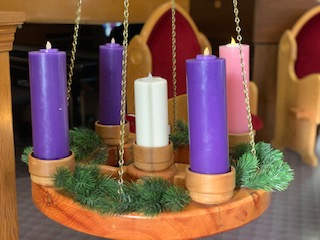 This week is the third week of Advent – the four Sundays before Christmas.  Thanks to all those who are offering additional gifts for this season!
This Sunday, December 13 there is a brief Advent Worship at 10:00 followed by conversation and visiting.  Here is the ZOOM link: https://us02web.zoom.us/j/7538449219
If you prefer to join us by being on a 'Party-line'/'Conference Call' style of phone call, the number to dial is: 204-272-7920

You will be asked if you want to 'join a meeting', (say yes), and then enter the meeting ID number: 753 844 9219
We look forward to seeing you!
In Advent, as we did in summer, we have some additional music to share.
Today's gift to you is from Lynne, Annette, Cheryl, Crystal, Susan, Keisha, Shelley, Melanie, Laura and Stephen:
We continue to be so grateful for those who continue to financially support the ministry of TMUC, through your donations on PAR, through www.canadahelps.org and in cheques mailed to the church.  You are making a difference.  Thank you.
Even though we cannot be together in one place, let's continue to be a community at prayer together.  If you cannot join in the ZOOM, perhaps you would like to join us in lighting a candle and remembering that this is the Advent Sunday of Joy.
Then, let's think about the gifts we have in our lives, and needs of our world, and then let's all pray the Lord's prayer (you can pray silently, or out loud).
And, sometime, when you want to have a longer worship time, we are including some words and videos for your use.
For those who receive the Prayer List, we continue to pray for those we know in our community who are working in Health Care and Education.  If you want to receive the Prayer List, or add a name (with their permission), please be in touch.
We are gathered for worship and work in Treaty One territory, which is the traditional land of the Anishinaabe, Cree, Oji-Cree, Dakota and Dené peoples and the homeland of the Metis Nation. For thousands of years Indigenous Peoples walked this land and knew it to be the centre of their lives and their spirituality. We respect the Treaties that were made on these territories, we acknowledge the harms and mistakes of the past, and we dedicate ourselves to move forward in partnership with Indigenous communities in a spirit of reconciliation and collaboration.
---
Worship for Sunday, December 13, 2020
The Third Sunday of Advent
The Sunday of Joy
We come to worship with the third verse of 'Hope is a Star'
We wait, remembering when peace was born,
For peace, a gift to the world still torn.
We wait with visions of stars above.
We wait still held in God's pure love.
Our opening hymn is "As With Gladness Men of Old"
Carol and Jeff share a glimpse of 2 tree ornaments:
Printable Version:
Carol and Jeff share a glimpse of 2 tree ornaments
Matthew 2:9-10
When they had heard the king, they set out; and there, ahead of them, went the star that they had seen at its rising, until it stopped over the place where the child was. When they saw that the star had stopped, they were overwhelmed with joy.

Carol offers a reflection:
Printable Version:
The Sunday of Joy
Park Manor Care is in the midst of a COVID outbreak, we hold the residents, families and staff in our prayers.
Let us pray: 
PRAYER DECEMBER 13/20
God of angel song,
God of Bethlehem birth,
God of beckoning star,
God of awakening hope
God of Advent joy,
we are a thankful people.
We are thankful for prairie sunsets,
for the play of sunlight on frozen ponds,
for the dance of shadows across winter's palette,
thankful for shelter from the chill of this season,
for meals that nourish and sustain,
for smiles that encourage, and
thankful for technologies that allow us to reach out to those with whom we cannot be physically present.
We are thankful, God, for Your love born into this world in Jesus and for Your love born continuously into our lives.
We are thankful for this Creation and all life that are part of this creation.
And so we pray for this Creation.
We pray for residents and staff of Care Homes and facilities. We pray for all those living with the isolation and the stresses of this time, and we pray for medical and emotional and physical support for residents and staff and families.
We pray for all who feel isolated from family and friends. May Your Spirit bless us with patience, enduring spirits, courage, hope and an awareness of the love of others and of Your love which are always with us.
We pray for peace and safety in places of war, conflict and violence.
We pray for wisdom for all providing leadership and guidance.
We pray for welcomed for those seeking shelter.
We pray for all who live in conditions of poverty or hunger.
We pray for those who live with physical diseases or challenges, all who struggle with emotional illness.
We pray for healing. We pray for compassionate caregivers and supportive communities.
We pray for global generosity, for the sharing of food, shelter, medical supplies and clean water.
We pray for humans to learn to live in harmony with all of Your creation.
We pray for the good news of the life of Jesus to transform hearts and lives, that we may learn to live with right relations, mutual respect and affirmation and deep friendship.
God, bless us with Advent hope, peace, joy and love.
In Christ's name we pray. AMEN
Our closing hymn is "Joy to the World"
May God bless you and keep you.
May God's face shine upon you.
May God grant you peace and joy.
Be in the peace of Christ, this day and always. Amen
We keep you in our prayers,
Carol and Jeff