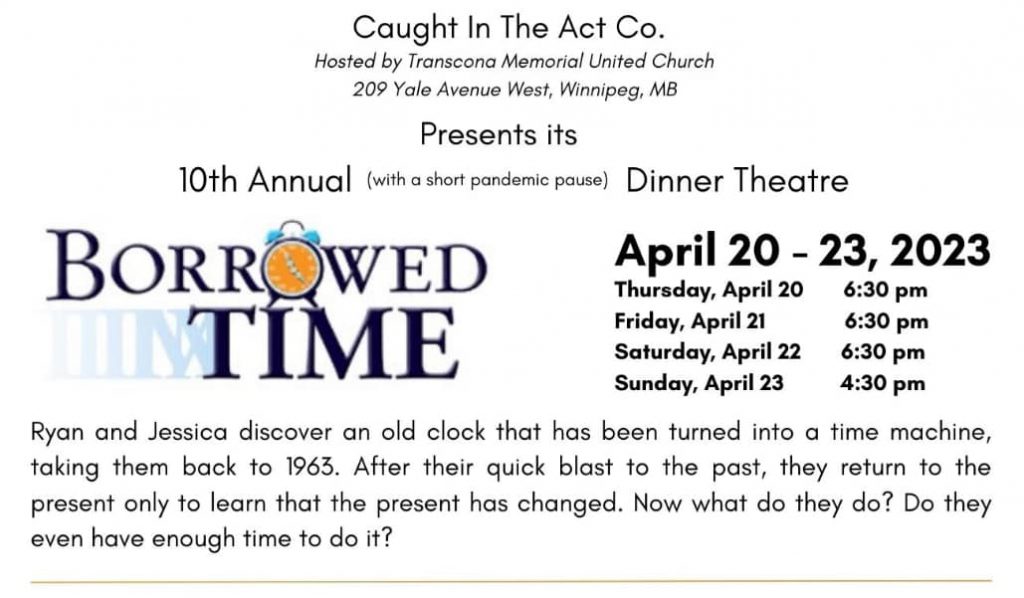 TMUC's Caught in the Act Co.'s (CITAC) Dinner Theatre returns with performances of 'Borrowed Time" April 20-23. Tickets are $50 each (purchasers receive a $20 donation receipt). Non-refundable tickets are sold on a first-come, first-served basis.

Contact Carol Favoni at 204-222-1475 or email carolfavoni46@gmail.com to order your tickets!

They're moving fast and you don't want to miss out!
VOLUNTEERS NEEDED

CITAC needs a sound and light apprentice, who will work our current sound and light technician in order to assume that role at next year's performance. Please contact the office if you are interested. CITAC also needs someone to be the coordinator for the servers on the performance days. 
 
Many other volunteers are needed to help serve, set-up, clean-up, etc.  Volunteer signup sheets are posted by the sanctuary entrance on the second floor. You can also phone the church office at 204-222-1331 in order to volunteer.